Many home owners want to convert their Upholstered chairs with legs to a Rocker Swivel or Swivel only (no rocking), These photos are an actual work in progress showing the attachment of Rocker Swivel style #154 & #15449. The same method would also apply to Style #153A, and similar for Ring and Swivel converting a chair to swivel only.
These Tips are intended as a guide. It is not a good practice to consider converting larger and giant sized upholstered chairs as hardware parts will wear out and loosen more quickly than in smaller sized chairs.
PHOTO 1-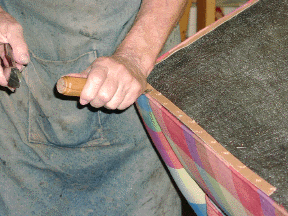 Shows partial removal of cardboard edge strip often used in upholstering. Next, remove the Cambric cloth (black dust cover) and then remove the staples holding the fabric onto the wood edge. Only remove enough staples from the fabric edge to permit direct wood to wood attachment of wood blocks described below in photo 2. Wood blocking should not be applied on top of the fabric or staples.
PHOTO 2-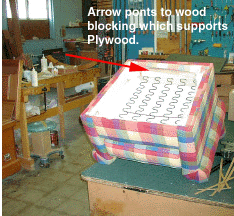 Glue and screw a block of wood 3/4" or thicker by 1 3/4" or wider by 11" or 12" long to the front and back wood rails. Apply this wood blocking below the top edge so that the long board which will support the #154 conversion will be flush with the top edge after installation. 3/4" should be the minimum thickness of the long board. For larger and heavy chairs or occupants, use a solid wood, preferably Hard Maple. In most other instances, 3/4" Plywood will be adequate.
PHOTO 3-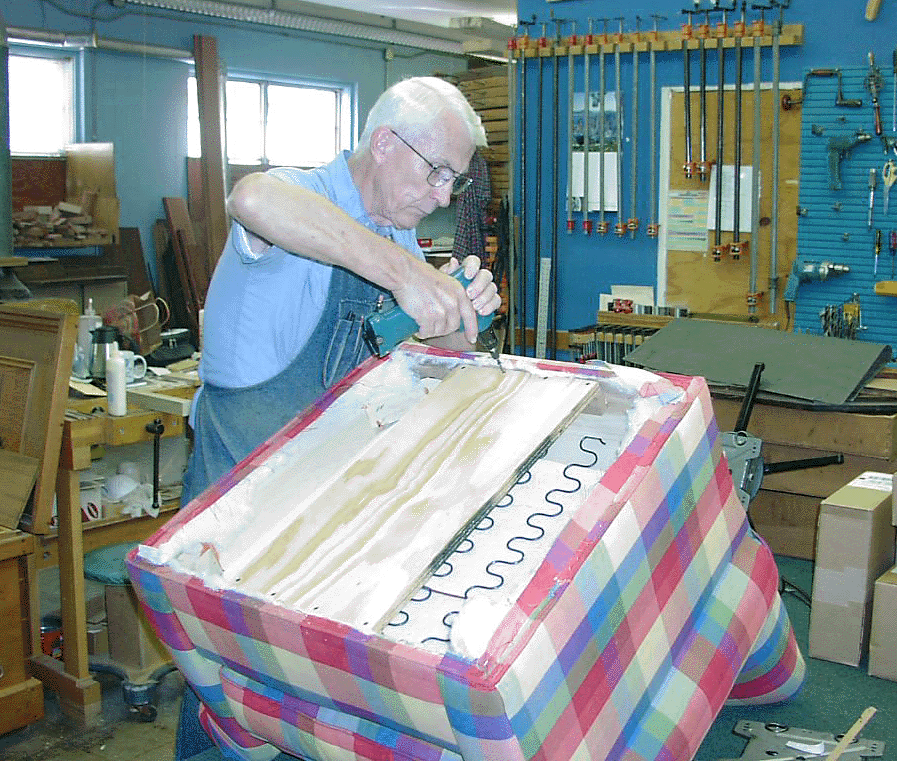 Screwing the board to the wood blocking. It is flush to rail edges. #8 x 1 1/2"-2" screws are recommended.
PHOTO 4-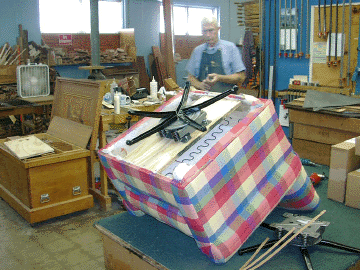 This is where the unit will be placed after the Skirt is made. The pivot point of the style #3230 is about 60% from the front on this particular chair--which is fairly common. This placement is easiest determined through Trial and Error. The"Pivot Point" is the shiny dime sized rivet (one on each side) which permits the unit to rock forward and back.
PHOTO 5-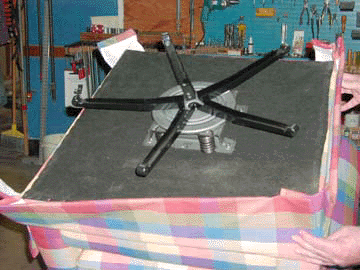 Shows style #3230 rocker swivel and skirt attached. Note that the legs will not protrude outwards from the rear of the chair. Originally, this was a Rocking Chair.