Drafting stool parts
Drafting Stool gas cylinders
Total overall length
of 50mm (2") Black Column 15"
Plus fully extended height of cylinder, 12 3/4"
Total overall length 27 3/4"
Style #1057DSCOM...$79.35
Style #1059DSChrome...$89.85
(If you removed the actual cylinder part it will measure 16 5/8")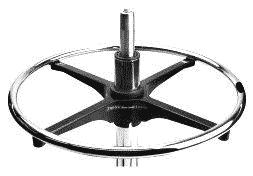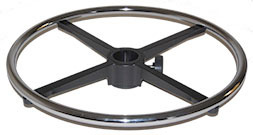 click objects for
more information
Unique replacement chrome stool foot ring with strong Black cross supports. This unique foot ring needs no handle or knob to securely tighten at any desired height. Simply spinning (twist) ring in either direction will tighten or loosen ring to easily adjust height without common annoying slipping. Will not dent or mar 2" diameter columns.
Available in 18" and 20" diameters
Gas cylinder sold separately.
Available in 18" and 20" diameters
This stool foot ring employs a knob to tighten firmly at any desired height. The knob holding screw tightens against a sleeve which in turn compresses tightly against the 2" column uniquly preventing movement or denting.

Drafting stool mechanism
Single lever raises and lowers seat height.
The Knob tightens back (Bar) to adjust seat back.
Style #5388DS...$59.80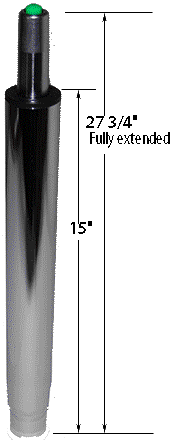 Click image to see mechanism size Click
HERE
for knobs