How to remove/install bolt or screw from a Couch leg Sofa leg or Ottoman leg
In most cases a pliers will slip on the threaded portion of a bolt making removal difficult. Instead, use either method.

Bolt removal
Use 2-5/16" nuts. It is helpful if one nut is larger or different than the other as in our kit shown below. Place both nuts on the bolt about halfway down. Then, jam tighten both nuts against each other. This is done by using two wrench's, turning each wrench in an opposite direction. After tightening, place one wrench on the nut closest to the wood leg and turn the wrench counter clockwise to remove.
If you have a machinest vise handy, place the threaded portion into the vise jaws and tighten securly. Grasp the wood leg and turn counter clockwise to remove the bolt.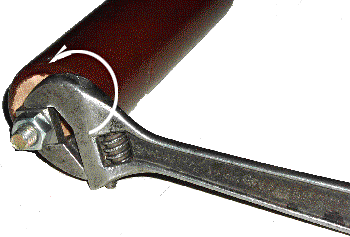 1-5/16" hex nut and 1-5/16" square nut kit Style #1109N...$1.35
Only 1 kit will do many legs


Dowel screw
Dowel Screw installation
Hand turn and finger tighten the dowel screw into the leg. Then, start the leg containing the dowel screw into a pre-drilled (1/4") hole in the couch frame where the new leg will be. Begin to hand tighten the leg clockwise. As you turn the leg, the screw will enter the couch frame and will take turns tightening into the leg and then back into the couch frame as you turn tighten. Turn the leg until it is flush up against the frame. Remove if necessary any staples or fabric which would prevent the leg from touching wood on the frame.
Back to Legs and Dowel screws
also see Couch or Sofa leg removal or install