What is a J-Bar?
A J-Bar is a steel bar used to attach a chair back rest to a seat bottom. It often resembles the letter "J", hence the name.
J-Bars can come in a variety of shapes, but all have the same purpose...to hold the chair back, up. It is frequently adjustable to provide user comfort.
These are three different shapes. There are many more.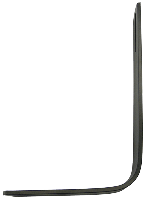 Edge view