Patio Rock and Swivel Parts
Cast Aluminum rust free Patio rocker and swivel.
1/4" thick composite springs are of the strongest and thickest type available.
COMPLETE SRK3655 KIT FEATURES INCLUDE

2 springs kit set
Full 24" diameter base
Raw textured aluminum
May be painted or left raw
10 1/4" total height as shown
8 button type glides
Self lubricating 360° swiveling
All hardware items included
For new outdoor patio furniture construction
For replacement patio furniture
Fits Halcyon, Carter Grandle, Tropitone, Crescent, Woodard and many others
Parts sold separately
Spring pair kit #SR3671...$51.75
includes
4 each square nuts, stainless steel bolts, washers and 2 straps

Spring size-1/4" thick
2 1/2"W x 5"L
Hole to hole spacing, 1 1/2"
---
---
Sting Ray swivel #SR3673...$57.40
Does not include springs or hardware
---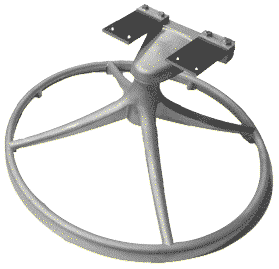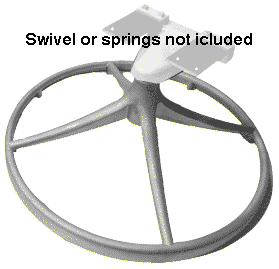 24"Base bottom only shown on left, complete with plastic center sleeve liner and bottom glides
Style #SR3669...$98.60
Replacement or new construction Outdoor Base
Complete base kit as shown below
Style #SRK3655...$179.60